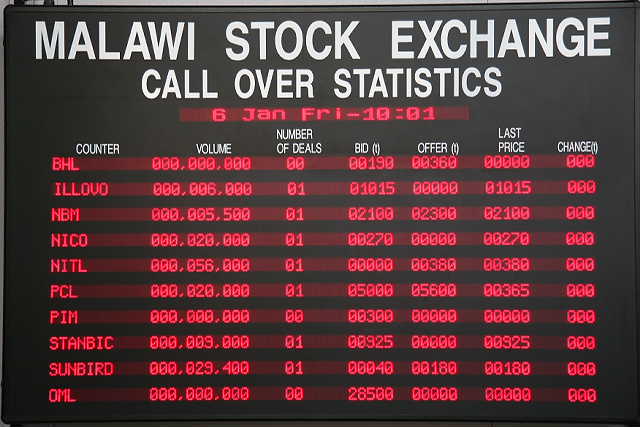 Trading picked up steadily on the Malawi Stock Exchange in the first three weeks of the New Year, Times Business has observed.
It has transpired that out of 16 counters, nine have registered share price gains while five have maintained share prices and two registered share price losses in the period.
Icon Properties and Press Corporation registered share price decreases by K0.1 each.
The biggest share price gainer among the counters is NITL whose share price gained by K19.99 while the lowest price gainer is Nico and Standard Bank, with a K0.1 gain each.
Blantyre Hotels Limited, Illovo Sugar Malawi, Mpico, Old Mutual and TNM maintained share prices on the local bourse during the period.
Malawi Stock Exchange Chief Operations Officer Kelline Kondowe said the performance this year has been unlike the past, when in January trading is usually subdued.
She indicated that, so far, share volumes have reached 30 million with a 3 percent return jump above last year's record of 24.6 million volumes traded in three weeks of market opening.
"The performance should be attributed to trading statements which the companies issued last month which paint a good picture of expected profits from the listed companies," Kondowe said.
Minority Shareholders Association of Listed Companies (Misalico) said the development in a month like January, where activity on the market is slow, is encouraging.
Misalico General Secretary Frank Harawa said this signals that the year will be good and investors will enjoy good returns on the market.
"Every day, share prices are increasing on almost all counters, which means that, as investors, we will have a good run this year if all things remain equal. Companies have also recovered from the Covid pandemic effects," Harawa said.
Companies have indicated that during the year ending December 31 2022, they will register profits which are higher than during the preceding period.