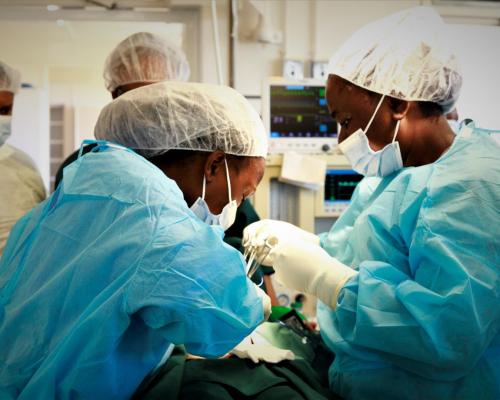 By Tatenda Chimbwanda
Mutare, Zimbabwe – Nine-year old Ngakudzwe, was diagnosed with inguinal hernia when he was only four years old. With little knowledge of the condition- and no money to seek medical help- his father, Mr Nicholas Mwanditani, had no option but just pray so that his son would feel less pain.
The family's hands were "tied" as they helplessly watched Ngakudzwe's struggle, the most difficult phase in his life.
"As a father it really broke my heart as l watched my son in pain for years. l was hopeless most of the time, knowing l could not do anything. The hernia repair surgery costs USD500 and l could not afford it. I only make less than USD50 a month as a tiler," explained Nicholas.
Ngakudzwe missed school frequently for five years due to unbearable pain caused by hernia. His father, Nicholas, remembers how his son's academic performance suffered as a result. Ngakudzwe was unable to participate in activities such as athletics, running, playing with wire cars, and soccer – his favorite sport – like other children his age. He was reduced to being a mere spectator of the fun and playing soccer seemed like an unattainable dream because of his condition.
When Nicholas heard about the Ministry of Health and Child Care (MoHCC) pediatric hernia repair camp on social media, he immediately borrowed transport money from his friends in Harare, Zimbabwe's capital so he could travel to Mutare some 300KM away. This was his only chance to change his son's life.
Speaking after the surgery, Nicholas explained with tears of joy; "This camp has been a dream come true. My son's life has been changed forever, he can now have a normal life and play his favorite sport soccer. l am so grateful to those who made it possible. l only had to spend money on transport, a smaller cost compared to the amount l would have paid for this surgery."
Ngakudzwe is one of the 100 children aged 2-12 years who received free hernia repair during the MoHCC surgical camp held between 20-24 March 2023 at Victoria Chitepo Provincial Hospital in Mutare. The surgical camp was led by Sally Mugabe Central Paediatric Surgeon Dr Precious Mtambanengwe whose team comprised of 6 anesthetists, 3 pediatric surgeons, 6 surgical nurses and 24 registered nurses from Victoria Chitepo Provincial Hospital.
Dr Precious Mtambanengwe indicated how the surgical camp also demonstrated how Zimbabwe has qualified health workers to conduct such surgeries, lacking enough esources to meet the high demand. "This camp brought the services close to the people," she said.
Victoria Chitepo Provincial Hospital, Medical Superintendent Dr Jaensch Mutende highlighted the importance of the surgical camp which addressed the need for hernia repair in the community and allowed them to attend to more children and reduce the number of patients on their long waiting list.
The surgical camp was conducted by MoHCC with technical and financial support from World Health Organization (WHO), Celebration Health, Smile Train and UNICEF. The surgical camp is a testimony of MoHCC efforts in accelerating access to essential surgical services in line with the National Surgical, Obstetric and Anesthesia Strategy (NSOAS) 2022-2025.
WHO's support was made possible with the generous funding from the Government of Japan which committed USD633,975 to strengthen access to safe, timely and affordable Surgical, Obstetric and Anesthesia (SOA) care services in Manicaland and Matabeleland North Provinces in 2023.
"The camp is a part of our support to the MoHCC in accelerating access to timely, affordable, safe, and quality surgical services for the Zimbabwean community, particularly the vulnerable who cannot afford surgery costs. This intervention directly contributes to Zimbabwe's National Health Agenda, which aims to achieve Universal Health Coverage (UHC) by 2030. Surgical services are a crucial component of UHC," said Dr. Thenjiwe Sisimayi, WHO Zimbabwe SDG3 GAP Technical Officer.
A hernia occurs when an organ or tissue in the body such as a loop of the intestine pushes through a weakened area in the abdominal wall. This bulge is called hernia, which may look like a lump causing discomfort in children such as swelling of the abdomen and serve pain when it remains untreated. Corrective surgery is required to treat an inguinal hernia. In many cases, surgery is done soon after the hernia is found. The two most common pediatric hernias in Zimbabwe are inguinal hernias in the groin area and umbilical hernias in the belly-button area.