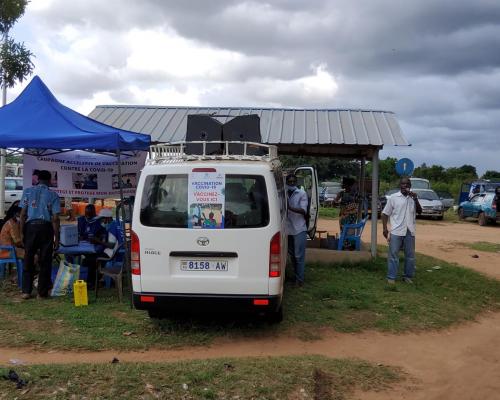 Kara – At the edge of a small field in the outskirts of Kara city in northern Togo where a crowd gathered for the annual Evala festival¬—a traditional celebration featuring wrestling contests—in mid-2022, a bright coloured bus drew small groups of people for a crucial issue: COVID-19 vaccination.
In February 2022 Togo launched a mobile vaccination drive on wheels. Buses equipped with vaccines and a team of health workers traversed remote locations, stopping at markets and other social events to provide COVID-19 prevention tips and vaccination to help increase protection against the virus across the country.
Throughout 2022 as COVID-19 cases declined, taking services closer to people was one of the crucial public health measures undertaken by Togolese health authorities to increase vaccine uptake. The initiative dubbed "vaccinobus", roughly "vaccines on wheels", is supported by World Health Organization (WHO) and the United States Agency for International Development (USAID). It aims to reach all people aged 12 years and above who are not fully vaccinated against COVID-19.
"I had already taken the first dose but given the distance to the centre and mostly because of fear from what people were saying on social media, I was hesitant to take the second dose," says Kodjo Malazoue, 41, a farmer in Elimdè in northern Togo. He recently took his second dose of COVID-19 vaccine in a "vaccine bus".
In the nine days of the Evala festival, about 5500 people were vaccinated by the mobile teams in all the sites hosting the event in Kara, more than a third the number vaccinated by 40 fixed-site teams during the same period, says Dr Abdel Kader Médé Alfa, Director of Health for Kozah prefecture in Kara. 
"It's good to have the vaccination teams in the festival sites so people can be vaccinated," says Akouavi Yoyisson, a retired teacher who took her booster dose. "As I had already received two doses, I took the opportunity to take the booster dose because the vaccines were brought to us. It's very accessible."
The mobile service along with other vaccination strategies saw the national vaccination rate of the targeted population rise to 18% by December 2022 from 12% at the start of the year.
The mobile vaccination teams have also served Grand Lomé and Maritme regions in Togo's south to increase vaccine awareness in more than 180 localities and neighbourhoods. 
"This is a great innovation. An effective mobile strategy," says Thibaut Williams, Director of USAID's Regional Health Office for West Africa. "This strategy can be used to provide other health services, raise awareness and share health information."
In addition to vaccination, the mobile vaccination initiative has helped in mobilizing communities, tackle misinformation and rumours and reassure the public over vaccine safety and benefits. Dr Koffi Vovolite Agbétsiafa, the director of health of Golf prefecture in the south of Togo, notes that the initiative also helped in disseminating health promotion messages. 
The Ministry of Health is considering extending the initiative to other vaccine-preventable diseases. "With the excellent results we have achieved with the "vaccine bus", we can only encourage the ministry to extend it to other campaigns," says Dr Fatoumata Binta Tidiane Diallo, WHO Representative in Togo. "We thank USAID for its support in piloting this innovative approach. We can reassure the government and all partners of WHO's readiness to support all initiatives that ensure better health for all and everywhere."